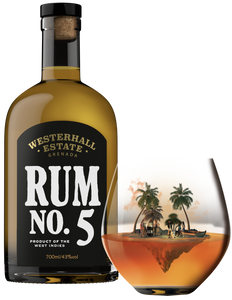 RUM NO.5
SILKY & REFRESHING
NO.5 IS SILKY SMOOTH, EFFORTLESS TO DRINK, AND OUR LIGHTEST RUM IN TERMS OF COLOUR THAT COMES IN AT 43% ABV.
A moderate bite on first sip quickly gives way to buttery honey sweet flavours complemented with hints of spice. This rum is immensely enjoyable either on the rocks or as a refresher with coconut water or ginger ale.
COCO FIZZ
SIMPLE, VIBRANT & BURSTING WITH FLAVOR
Combine No.5 with coconut water, a splash of lime juice and ginger, muddle, strain and top up with soda.
View Serves