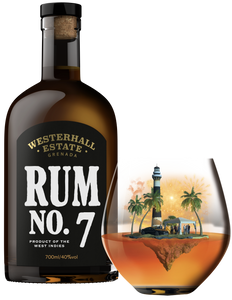 RUM NO.7
DARK & ROBUST
NO.7 IS AGED FOR 7 YEARS IN NEW AMERICAN OAK EX-BOURBON CASKS RESULTING IN THIS DARK RUM THAT BOASTS ROBUST FLAVOURS AND COMES IN AT 40% ABV.
Our signature spices are gently reinforced by molasses with a hint of caramel giving a snooth and exotic burst of flavor like no other. No.7 works equally well with tropical drinks or mixers or simply over ice.
BERRY DAIQUIRI
VIBRANT & BURSTING WITH FLAVOR
Add 50ml No7, 2 Large Strawberries, 2 raspberries, 25ml of sugar syrup,& 30ml Lime Juice and shake with ice, then pour to enjoy.
View Serves
---